Do You Like Surprises? Try a Mystery Diamond Painting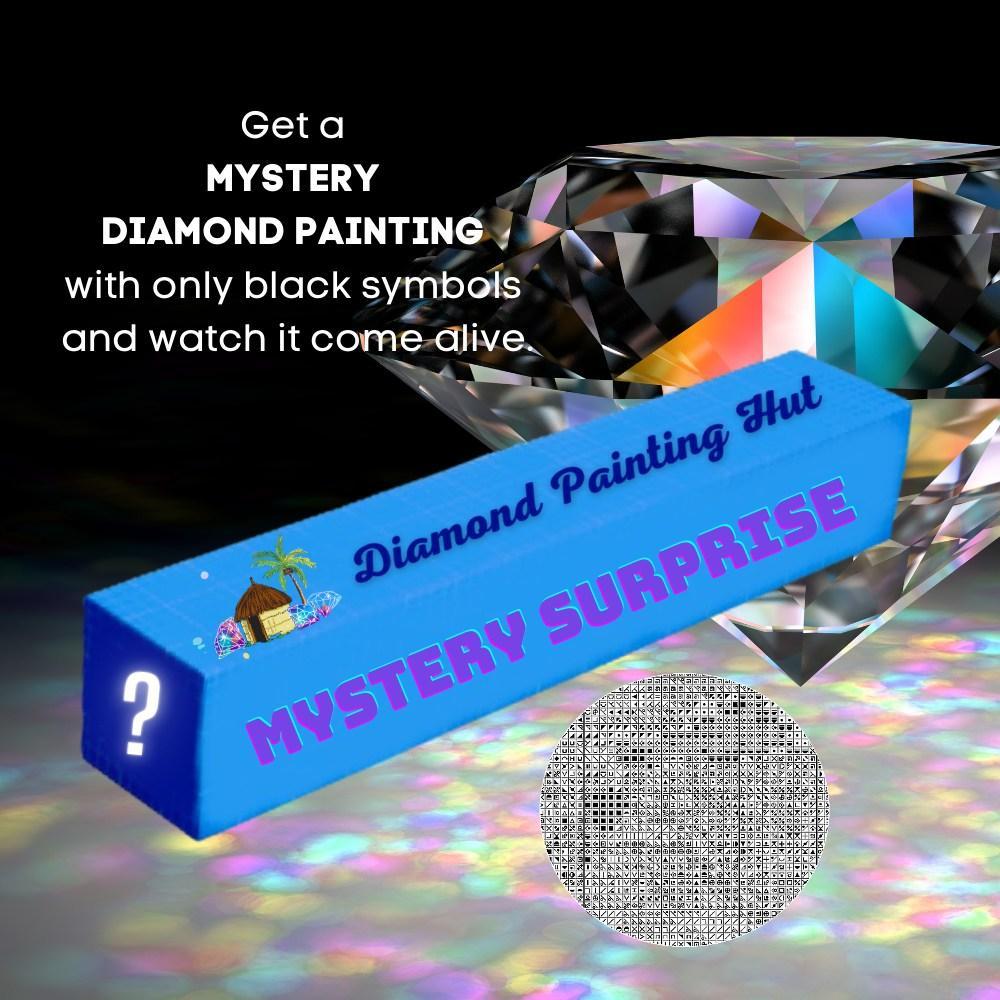 Do you like surprises? If you answered yes, then try one of our new mystery surprise diamond paintings! You will have no idea what image is on the canvas until you finish (or come very close to finishing) the diamond painting. We will send you a random diamond painting not found in the current selection in our store.  Make your diamond painting more fun by getting your own Mystery Painting today!

 Click here to order.  At Diamond Painting Hut, we offer mystery diamond paintings in many different categories.....so that you can choose something you know you will like. The Mystery categories you can choose from include:
If you can't decide, then just order a Diamond Painting Hut 

Original Mystery Surprise

 diamond painting and you will receive one from a random category. 
You will receive a blank canvas which contains only black symbols. Follow the chart as usual, by placing the colored diamonds on the corresponding symbol, and you will be pleasantly surprised with your completed masterpiece. Watch it come alive as you paint your canvas.
 All of our diamond painting kits come with everything you need to make your masterpiece. Diamond painting is easy to learn and so much fun to do. Each kit includes high-quality color-printed fabric, pre-sorted diamond gems, stylus pen, craft tray, and wax. You simply roll out the canvas, pick your first color set (by matching the color pack name to the chart on the canvas), dip your stylus in the wax for easy pick up, and place your gems in the designated areas.
Steps to Diamond Painting
1. 
Think color by number, but using colored beads.
2. 
Apply adhesive from the small pink pad onto the stylus tool. This allows you to pick up each bead.
3. 
Peel away part of the film (do not remove completely) covering the adhesive canvas and stick your beads (labeled by number or shape) to the corresponding number or shape on the canvas.
4. 
It's recommended to start from the bottom for smaller prints and do one color at a time.
5. 
When you've finished a session, re-cover with film and press lightly with your hand to further secure the beads to the adhesive.
6. 
Keep your painting covered with film when not in use and repeat the above steps whenever you'd like to work on it again.
7. 
When completely finished, remove the film covering the canvas and you're ready to display.
The bigger the better - The larger the size of the diamond painting, the higher the resolution, sharpness and shine will be.
choose the size you want from the drop down menu. Sizes are listed in cm so please use our conversion calculator if you would like to know the measurement in inches.
2 comments